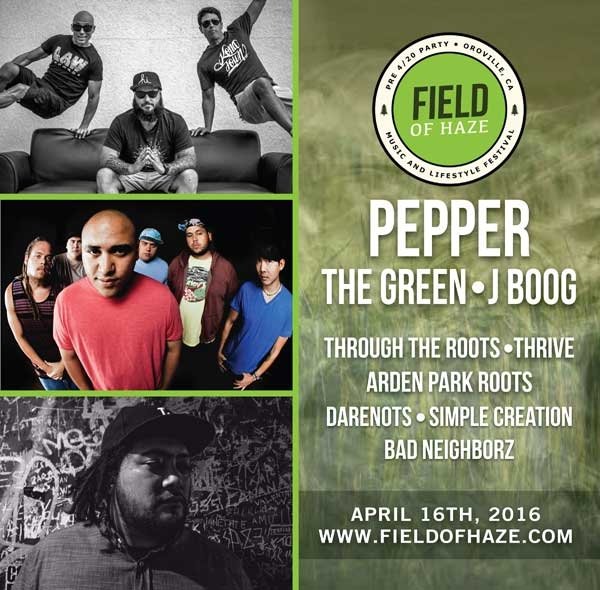 The Festival will House Live Music from Trending Reggae-Rock Acts, Craft Brews, Commercial and Artisan Vendors, and a 215-Zone for 18 Years of Age and Over, with a Medical Marijuana Card.
  
The Field of Haze festival adds JBoog and Through The Roots to the inaugural lineup. The festival will take place in Oroville, California, 24.5 miles north of Chico and 68.5 miles north of Sacramento, at the Field of Dreams Ranch. The event is held in celebration of culture, friendship, live music and education in cannabis and the 420 movement.
Already on the lineup, are both trending reggae-rock acts as Pepper, The Green, Thrive and Arden Park Roots, as well as up and comers Darenots, Simple Creation and Bad Neighborz.
Founder of Field of Haze and Monser Presents, Jeff Monser is a veteran festival producer, founding other prominent festivals as California Roots, California Roots Carolina Sessions and most recently Dry Diggings. "I wanted to embody a festival that has purpose and cultural diversity, while delivering the ultimate party; which educates the general public of the healing benefits of cannabis and has the same roots vibe, that I've modeled in my other festivals," said Monser.
The Field of Dream's Ranch is a serene property, filled with rolling mountains and streams, with distant shaded Bigleaf Maples and California Buckeye trees. The event will house some of the most trending reggae-rock acts, commercial and artisan vendors, craft brews – for 21 and over, as well as a VIP section for special access and privileges and an 18 and over 215-zone (with a current medical marijuana card); having speakers, educators, cannabis samples and products for sale
The all age event, Field of Haze Music and Lifestyle Festival will open its doors at 10:00am on April 16, 2016 and close at 11:00pm. The festival is located at: 1534 O'Neal Road, in Oroville, California. Admission to the festival ranges from $30-$100, with parking fees set at $10 per car. The official hashtags of the events are #FieldOfHaze and #CaliHaze. More information and ticket purchasing can be found at: FieldOfHaze.com